Mould Die Wearable Part Cemented Carbide Plate
Description of tungsten carbide plate
1. High wear resistance.
2. 5 Tons sell a month.
3. 50 Tons output per month.
4. Various types available.
5. ISO9001:2008,CQC.
6.Fully adopted in advanced technology
Properties and applications of tungsten carbide plate
Grade
Density
T.R.S
MPa

Hardness

HRA

Performance & application recommended
YM6

14.9

2150

90

Good wear resistance, used for hard wood, used for

processing original wood, aluminum section bar,

brass rod and cast iron.

YM6A

14.9

1860

92

Has wear resistance higher than YG6, used for

processing hard wood, original wood, aluminum

section bar, brass

rod and cast iron.

YM8

14.7

2320

89.5

Wear and percussion resistance , used for processing

hard wood, soft wood, ferrous and non-ferrous.

YM2T

14.5

2350

92

Fine carbide, High wear resistance, high bending

strength, high resistance to bonding, high thermal s

trength. Machining of refractory alloys, stainless

steel and high manganese steel, etc.

YS25

14.5

2150

92.2

Wear resistance and strength comparatively higher,

suitable for processing cast iron, non-ferrous,metal and non-metallid materials.

YM10X

14.45

91.8

3000

Wear resistance and strength comparatively higher,suitable for maching cast iron,non-ferrous metal and non-metallid materials

Other grades of strips may be offered according to customers' requirement.
Application of tungsten carbide plate





Production process of tungsten carbide plate


1, Soon after the order is confirmed,tungsten carbide plate products will start to prepare the RTP powder as per customer's requirement with our wet-grinding machine

2, Before mass production, we need to do a trial pressing and sintering using every mould, and we check the appearances and the sizes of tungsten carbide plate samples with micrometer, projectors etc. to ensure that the requirements of the drawings can be met before batch production



3, Bulk production ,press the raw materials to shape blanks,and all tungsten carbide plate blanks must be passed by semi finished inspection
4, Then sinter blanks to finish (HIP) and finished tungsten carbide plate inspection, we have 10 sets of vacuum sintering furnace and 2 setz of HIP in the factory ensure the best quality and production capacity.

5, 1). cleaning/tumbling is to make the tungsten carbide plate look more beautiful.
2).The tungsten carbide plate can be ground according to customers' order tolerance requirement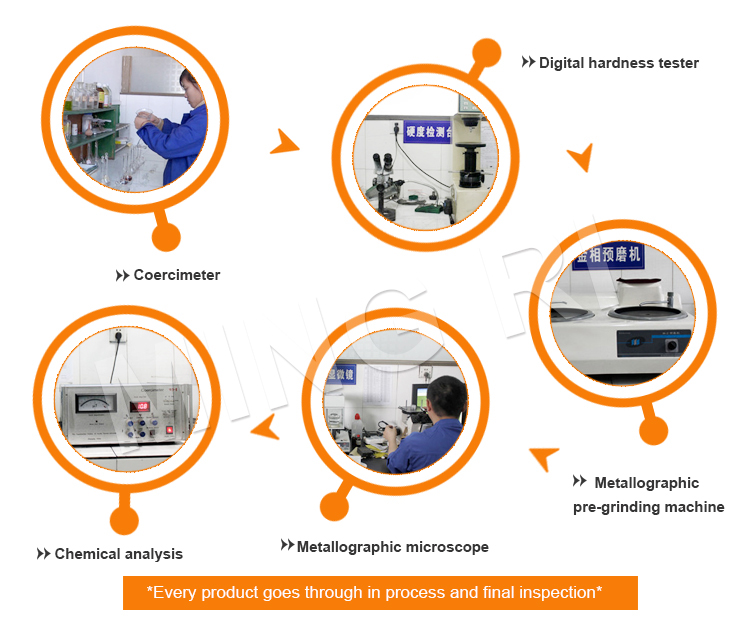 Packing and shipping of tungsten carbide plate


step 1, wrapped tungsten carbide strip in paper to avoid tungsten carbide plate to broke
step 2, put the tungsten carbide plate in inner small carton box
step 3, put the inner box into outter carton and fill the carton with foamed plastic
step 4, wrap the carton with packaging tape
step 5, you can choose any delivery way such as DHL,TNT,UPS ect.


Scan the QR code to read on your phone
We could not find any corresponding parameters, please add them to the properties table