High Quality Tungsten Carbide Stud for HPGR
Main products
Product Description

Grades above are exclusive grade we developed for rolling machine. Good wear resistance and high strength are suitable for metal smashing with high working efficiency. Lifetime of carbide stud is over 8000-10000 hrs.

Product Uses
1. Carbide studs wear parts can grind bulk material.
2. As pre grinding equipment before ball mill or form complex grinding system with ball mill in the field of mineral separation
3. Carbide studs wear parts Widely used in grindingcement clinker,limestone,bauxite,iron ore.
Production Flow
1, Soon after the order is confirmed, Carbide studs wear parts products will start to prepare the RTP powder as per customer's requirement with our wet-grinding machine

2, Before mass production, we need to do a trial pressing and sintering using every mould, and we check the appearances and the sizes of Carbide studs wear parts samples with micrometer, projectors etc. to ensure that the requirements of the drawings can be met before batch production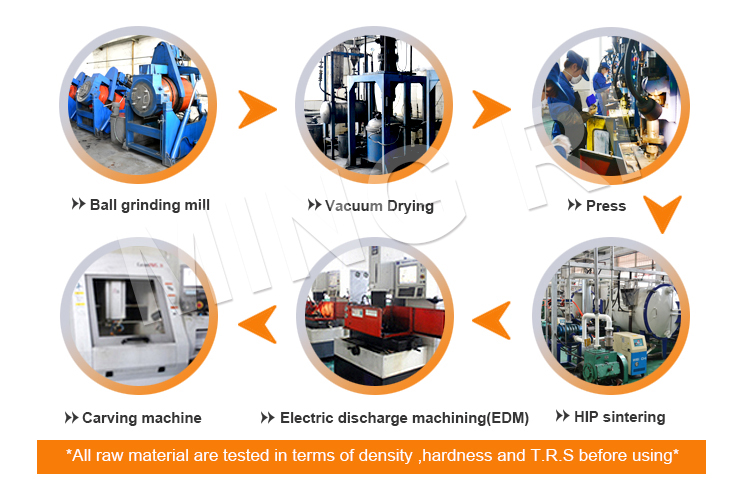 3, Bulk production ,press the raw materials to shape blanks,and all Carbide studs wear parts blanks must be passed by semi finished inspection,

4, Then sinter blanks to finish (HIP) and finished products inspection, we have 10 sets of vacuum sintering furnace and 2 sets of HIP in the factory ensure the best quality and production capacity.
5, 1). cleaning/tumbling is to make the Carbide studs wear parts look more beautiful.
2).The Carbide studs wear parts can be ground according to customers' order requirement
Packaging & shipping
Scan the QR code to read on your phone
We could not find any corresponding parameters, please add them to the properties table